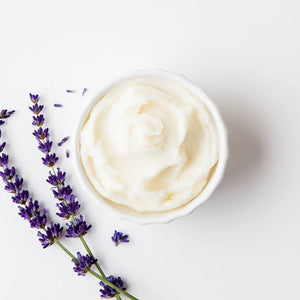 This product is so popular -- we even have a 2 oz. jar to slip into your travel bag.  
Made with just three simple ingredients, our lavender shea butter is suitable for all skin types. 
Whipped shea butter with organic jojoba oil and using essential oil distilled at our Farm, this luscious butter will keep you hydrated all day (or all night!).  FarmHer Sherri uses it on her hands and feet before she goes to bed.


Body Butter is "firm" --  it will take several minutes for this to be absorbed into your skin.