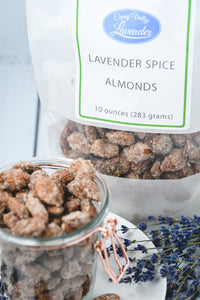 Capay Valley is known for its nuts -- walnuts and almonds.    Try our Lavender Spice Almonds, a sweet and savory snack with a hint of lavender that rises at the end. You'll fall in love at first bite!
Starting in Fall of 2020 our Almonds are USDA Organic Fritz Almonds grown at Capay Valley Orchards in Capay, California.  
Snack Size is 2 ounces; Share Size is 8 ounces; Buy in Bulk gets you 3 bags at a discount.
Contains:  Nuts, Eggs, Soy